Emulsifier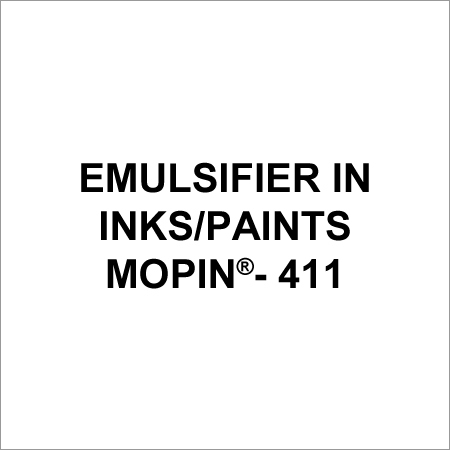 Emulsifier
Price And Quantity
Kilograms/Kilograms

2000 INR
Product Description
Polymerised Emulsifiers
Emulsifieris an additive which is used as a stabilizing agent for various emulsions that are suspended solutions that can be water based or oil based. It consist of both hydrophilic and hydrophobic tails in its compound. It acts as a barrier in between the droplets to keep them from coalescing. Emulsifier works like a surfactant which when added to the emulsions can attract both polar and non-polar particles. It is suitable for both water in oil or oil in water based emulsions and helps to lower the interfacial tension between the different phases to stabilize the droplets.

Emulsifier in Inks/Paints

Appearance: Semi Viscous Liquid
Colour on Gardner Scale: 14 max
Refractive Index at 30oC: 1.450 - 1.550
Sp. Gravity at 30oC: 1.10 - 1.20
Viscosity at 30oC: 29 to 49 poise
Acid Value mgKOH/gm: 110-115
Iodine Value mgKOH/gm: 10-20
Saponification Value, mgKOH/gm: 100-120
Solubility: Soluble in Alcohol & Water
Applications
MOPIN - 411, is an oil & water soluble product, it acts as an emulsifier. It is a polar product, use of this product allows, in corporation of water into the paint/ink system.
It does not separate water on storage from the system.
It is soluble with all types of alkyd resins.
Addition of MOPIN - 411 do not change reological property of Ink and reduces premixing and dispersion time substantially.
Recommended for Offset Inks.
Improve wetting and minimize flocculation.
Direction of using the product
Prepare premix as per the regular formulations.
Put premix for stirring under high speed.
Add MOPIN - 411 as per recommended dosage after stirring about 15-20 minutes.
Start addition of water slowly under stirring (add 2 ltrs. water/min.)
Continue running the stirrer up to 30-35 min.
Notes
Add all the ingredients of the final product before addition of MOPIN - 411 and water.
Add water slowly.
Dosage
: Upto 1% of the total premix system Permits 18 - 20% water incorporation
Contact Us
210, Mahavir Industrial Estate, Kachpada, Ramchandra Lane Extn., Malad (West), Mumbai, Maharashtra, 400064, India
Phone :+918037400257